Archive for July, 2007
What's in my belly? I know it sounds silly, but my belly is mysteriously large. It's been that way for years. I don't think it's just fat. You can pinch a little fat on my belly, but not a whole lot. I'm clearly a few pounds overweight, but it's really not much. Here's a topless picture of me from May to prove it (just what you've been hoping for, I'm sure). I seem to be either wiping the water from my face or praying.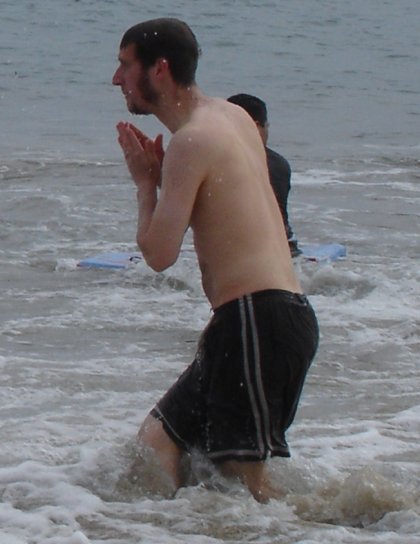 So. There I don't look too bad. You can see there's a little fat on my belly, but no potbelly. But if I relax my belly, it sags out quite a bit, into a full-fledged potbelly–except I don't know what's in there! My mom asserted that I just have untoned abs. If I got more exercise, then my belly wouldn't sag that way. When I asked the doctor, she said more or less, "yeah, sure, that's probably it." So for now, that's the official consensus.
Personally, I'm not blown away by that explanation. I don't think most people have potbellies unless they tighten their stomachs. I think there's some mysterious substance filling my abdomen.
But maybe I'm just full of shit.