Archive for August, 2005
Ah, UPS. You really keep up the suckage. Recently, Kate and I got a wedding gift package, shipped by UPS. Unfortunately, like most humans, we're not home during the day, so they left a little note. Because the 'Signature required on delivery' box wasn't checked, I figured I could just sign the slip so they'd leave it. That would be marginally convenient.
But, no. Instead, they simply checked the 'Signature required' box on the same delivery slip!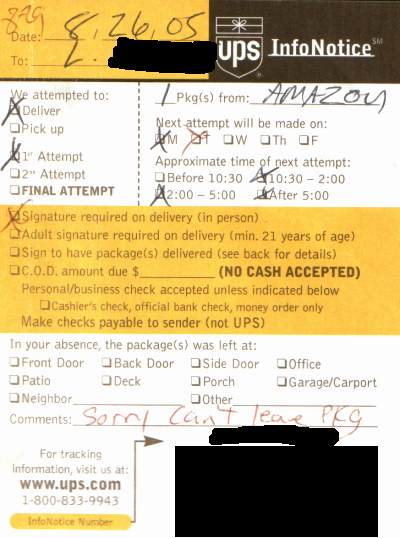 Note how the "Tuesday" and "Signature required" boxes were checked in a different pen; he checked them on his second delivery attempt in some sort of attempt to cover up the fact that he didn't check them in the first place.
Could this bastard not have checked the right box in the first place? That might have changed how I tried to receive the package, so maybe I would have actually received the same thing.
Finally, I'd like to point out the low-quality delivery time prediction the delivery person made. He checked all but 1 of the delivery time boxes! All I knew is that the package would arrive sometime after 10:30. Great. Now I can easily plan to be home at the delivery time!